The Concept

The Concept
The "Solution F2" fire control panel is a new generation, extendable and ultra modern fire control panel for small applications. It has been developed to meet international standards and to satisfy specific international requirements at the highest level.
Box Title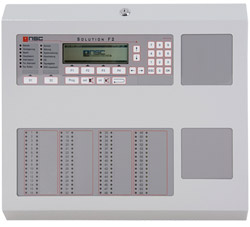 Solution F2 in B1 enclosure
A lot of experience and know-how from the outstanding "Solution F1" fire control panels have influenced the development of this new fire control panel.
Flexibility – especially for connecting different detectors – was one of the most important aims during the development of this new "Solution F2". Very remarkable: The "Solution F2" panel is compatible to the newest analogue addressable sensors of Hochiki and Apollo – two of the biggest and best known players in the detector market worldwide.
The panel has as standard one loop module supporting 126 Apollo sensors or 127 Hochiki sensors plus 127 base sounders (only Hochiki), a power supply unit 230 VAC / 24 VDC with 2,5 or 3,5 Amps, a control panel with membrane keypad and graphics LCD module, USB and RS232 interface and several inputs and outputs.
The following extension modules are available:
A second loop module
I/O interface (2 sounder outputs, 3 relay outputs etc.)
RS485 interface card
64 zone LEDs modules
Box Title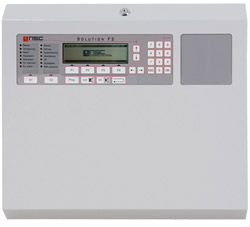 Solution F2 in B2 enclosure
The convenience features
Depending on the configuration there is the choice of one of two sizes for the housing. As a standard the panel already provides a slot for an I-module. That means an analogue or ISDN telephone modem can be plugged into the panel. By using the NSC configuration software the panel can be configured by remote access control. In addition, on the card location of the I-module the new NSC web server can be plugged in. Then you have access to the "Solution F2" panel via any common internet browser.
Signal processing, indications and operating the panel are exactly according to the EN54 standard. All inputs and outputs are programmable. And for some more comfort there are soft keys below the LCD module and programmable push buttons for often used operating functions.
Intelligent single-loop panel with comprehensive possibilities to extend for small applications
Designed according to EN54 standard, part 2 and 4; VdS and CPD approved
Supports Hochiki ESP sensors and modules as well as the Apollo ranges XPlorer, XP95 and Discovery
Integrated control panel including graphics LCD module and internal Power Supply Unit 24 V/2,5 or 3,5 A
PC configuration by the well-known and easy-to-use NSC configuration software (Windows XP.NET based)
USB and RS232 interfaces included in the standard configuration
Extension modules available for controlling of the German Fire Brigade Control Panel incl. transmission device, for RS485 interfaces
User-friendly membrane keypad with programmable push buttons for user defined functions
Box Title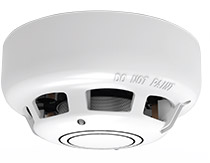 Multi Sensor ACC-EN
The "Solution F2" is characterized by highest compatibility. It can - for example - address ringbus detectors from different manufacturers, such as ESP-detectors by Hochiki or the Apollo XP95/Discovery-detectors.
You can find detailed information about this in our 8-paged brochure:
PDF-download brochure The Fire Alarm Control Panel Solution F2